Huf
Johann Huf (born January 1803) married Anna Christina Grüning (born May 1812) on 18th March 1832 at Schwersenz (now the Polish town of Swarzedz), a few kilometres west of the town of Nekla, where they had both been born, in the Prussian province of Posen. They had five children, the first of which died. They were devout Lutherans, and disagreed with religious policies of the state-controlled Church in Prussia.
| | |
| --- | --- |
| Johann Huf | Christina Huf |
The Hufs and others from the Nekla area made preparations to emigrate to South Australia, where others from their region had already gone to. On 15th July 1846 the Hufs received their travel pass giving them government permission to leave, and which also made clear that in receiving the pass they lost their Prussian citizenship (a pretty major step). They sailed from the port of Bremerhaven on the Heloise, a ship chartered by the emigration agent for South Australia in Bremen Eduard Delius. Christina Huf bore a son three months into the voyage near the Cape of Good Hope. This son August was two months old when the ship arrived at Port Adelaide on 17th March 1847. The Hufs along with some other immigrants moved on to Bethany in the Barossa Valley, and after a few months there shifted to Hoffnungsthal, also in the Barossa.
At Hoffnungsthal it was soon clear that Johann could not expand his farm much and that he would never be able to own the land he was renting. So the Hufs and others from Hoffnungsthal and Rosenthal journeyed overland to southwest Victoria, where they heard good land was going to be sold.
They made several applications for land in the Hamilton area, but were told each time that the land was not available. Eventually the Germans who had arrived at Portland from S.A. were running into financial difficulties. Johann could not read or write, and Michael Deutscher wrote a letter to the Lieutenant Governor on 15th February 1853:
The German congregation at Portland Bay,

We ask you, the honorable Excellency the Lieutenant Governor, to forgive us for our bold request when we as British subjects ask for help from you honorable Excellency in the hope, that our Lord Governor will listen to us most graciously. In the year 1851 a group of Germans from Adelaide, and consisting of more than 300 souls applied for land in this Colony near Portland to the honorable Excellency, the Governor. The answer, which they received was not to their liking and they gave up their plans.
However, our group of ten families, altogether 50 souls, decided to comply with the Melbourne laws and to go to the Colony at Portland. We are all farmers (agricultural) and came in May 1852 cross country from Adelaide to Portland bringing with us all our animals (cattle, horses, etc.) and implements and tolls. Through our representatives M. Deutscher and J. Huf we have applied four times for land, suitable for cultivation.
So far we have not achieved anything and there have been no sales of land, suitable for wheat farming in the area.
We have lived for nine months here in and around Portland in rented premises, waiting for land. We have lost half of our draught animals and soon will not be able to keep the remaining few beasts, because we have no fodder.
In Adelaide we lived amongst German colonists and therefore most of us do not yet speak English. This is the reason why only a few have been able to find work (and earn some money), the rents for houses are steadily increasing and most of the time accommodation is not at all available.
We will not be able to hold out much longer in this situation. Most of us do not know any other work but agriculture, and we ask most obediently and humbly as servants of your honorable Excellency that you will offer for sale in the near future the land, which we have indicated in the enclosed application. It is situated in the County of Hamilton. Does not the Melbourne law state that land should be offered for sale as often as there is a demand for it?
The names of the people asking for land, are as follows:

Gotthelf Petschel
Wilhelm Petschel
Carl Petschel
Andreas Burger
Johann Burger
Michael Schmidt
Gottfried Schneider
Johann Hundrack
Johann Rentsch
Johann Mirtschin
Andreas Albert
Andreas Deutscher
Michael Deutscher
Johann Huf

If your Excellency will see fit to grant our request most graciously we would like to ask for your favourable reply as soon as possible. We will forever remain as your most obedient and faithful subjects and servants
Signed by the chairman of the congregation
Michael Deutscher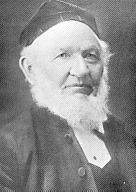 In May 1853 Pastor Clamor Schürmann arrived from South Australia to fulfil the religious needs of the Lutherans in southwest Victoria. The Germans were very pleased to see him. Finally in late 1853 they were able buy land, and Johann Huf and his family were the first German family to settle permanently in the Hamilton area. Pastor Schürmann settled in the Hamilton area also and played a big role in the Lutheran history of south-west Victoria. For years he visited congregations across a large area, travelling each year overland between Hamilton, Portland, Warrnambool and Geelong. On 14th November 1853 Johann Huf made his first ever land purchase in his life, at the age of 50.
Huf gravestone,

Sth Hamilton cemetery

Schürmann gravestone,

Sth Hamilton cemetery
(Thankyou to Betty Huf for information supplied.)
---
| Top | Back | Chronology | Issues | Students | Site Map | auf Deutsch |
| Primary Sources (in German) | Bibliography | Search |
German Australia © D. Nutting 2001