* You can search this page for a specific year or person by using the combination of the keys Ctrl F on your keyboard.

1850s
Gold rushes!! The discovery of gold in Victoria and New South Wales led many people from the German-speaking countries to try their luck in Australia. Some moved on to goldfields in Queensland. Many stayed in Australia, though some moved on to new goldfields in New Zealand. German farmers of South Australia tended to stay where they were, with the reliable produce of their farming work. Some families, however, sent one man from the family to the Victorian goldfields to try his luck. For example, read about quick-thinking Dienegott Jaeschke, who met a bushranger (outlaw) on the way home to SA.
More on Germans on the Victorian goldfields...

German speakers comprised the largest group from Europe with about 20,000 arriving in Australia in this decade. The only European group to emigrate to Australia in large numbers after 1850 were German speakers.
1850
On 19th March Pastor Matthias Göthe arrived on the Clifton and soon started work in Sydney as Professor of Maths and Modern Languages at Dr John Dunmore Lang's "Australian College" (Dr Lang, whom Göthe had met in England, was supportive of German immigrants). He also preached to a small German congregation in Sydney. He later did a lot for the Germans in the Melbourne area.
More...


In March a group of German and Wendish farmer settlers from Mecklenburg, Sachsen and Schlesien established a close-knit farming community just to the north of the city of Melbourne on land acquired on their behalf by the prominent Melbourne merchant William Westgarth. Many of them had arrived on the Pribislaw from Hamburg on the 2nd of February. Westgarth actively promoted German immigration to Victoria. Over time the village was known by various names: in 1850 Keelbundora (after the parish in which it was located); ~1851 Dry Creek; ~1855 New Mecklenburg; ~1860 Westgarthtown; ~1900 up to the present Thomastown. Many of the first settlers were Wendish/Sorbian, reflected in family names such as Wuchatsch, Ziebell, Zwar and Kupsch. The Westgarthtown church is the oldest continuously operating Lutheran church in Australia, opened on 17th November 1856. Today the farm buildings and church lie within the suburb of Thomastown and are an example of an old German-style village, with one home restored to its original condition as a heritage site.
Photos and more of Westgarthtown, including tours...
1851
The Silesian Catholic Franz Weikert and the Austrian Jesuit priest Alois Kranewitter bought a large piece of land at Sevenhill, about 6 km south of Clare in South Australia, and established a Jesuit seminary. Weikert had led a group of Silesian Catholics to South Australia in 1848, but had not been able to keep them together after arrival. The Sevenhill community was organised in the European style, with houses and farms grouped around a central church and a college/seminary. The seminary trained many priests, and at its peak in 1898 sixteen Fathers and eleven Brothers were working there. This close-knit German-speaking Catholic community was an exception; generally German-speaking Catholics blended into existing Anglo-Irish Catholic congregations. Alois Kranewitter later went to Melbourne and worked for the Catholic Church there.
1852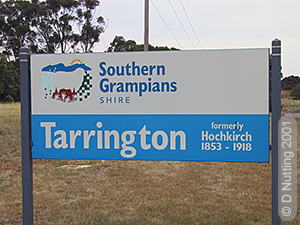 German-speaking Sorbs/Wends from the Barossa Valley seeking better and more land moved into the Western District of Victoria, having heard reports of good land available there for them. The first group of families arrived at Portland on 26th May after an overland journey of about four weeks on wagons. They had to wait and rent property for many months; the land they were hoping to buy wasn't available, and land speculators and squatters forced prices up. They moved north to the area around today's Hamilton and were finally able to establish several German-speaking settlements such as Hochkirch (now Tarrington) and Gnadental ("Valley of Grace"), near Penshurst (1853). Among the early settler families were the Hufs, Petschels and Mibus's (Hochkirch), and the Bürgers and Mirtschins (Gnadenthal).

On the 5th August Georg Balthasar von Neumayer, astronomer and geophysicist, arrived in Sydney on the Reiherstieg at the age of 26. He carried out geological and magnetic investigations during travels in Australia and became a leading figure in Melbourne scientific circles.
More...

Johann Joseph Eugen von Guérard (known in Australia as Eugène), Australia's most important romantic landscape painter of the third quarter of the 1800s, arrived at Geelong on 28th December on the Windermere. He was born in Vienna; his father, Bernhard, was a court painter to Emperor Franz I of Austria.
More...
1853

Ferdinand Jakob Heinrich von Müller was appointed Government Botanist in the Colony of Victoria. He had arrived in Australia at Port Adelaide six years earlier on 18th December 1847 on the Hermann von Beckerath, leaving Germany for health reasons. From 1857-73 he was director of the Melbourne Botanical Gardens and was a well-known personality. He travelled extensively in Australia collecting specimens of animal and plant life and classifying them for the scientific world. Several of his suggestions had practical benefits for agriculture in Australia.
More on the Baron...

Wilhelm Heinrich Ferdinand Kaiser arrived at Adelaide on the Steinwärder. Born in 1833 at Clausthal (in a mining area of the Harz Mountains), he trained there as an ore-sorter. Kaiser spent time on various Victorian goldfields and in 1875 he was appointed manager of the Mount Bischoff Tin Mining Co. at Waratah in northwest Tasmania. When it was found in 1871, the Mount Bischoff mine was the world's largest tin mine, and by 1880 had paid £210,000 in dividends. In 1898 Wilhelm Kaiser was the first non-British person to be elected President of the Australasian Institute of Mining and Metallurgy.

Herrnhut, a religious utopian commune, was established about 24 km south-east of Hamilton in Victoria's Western District by Johann Friedrich Krummnow, a religious zealot who had originally arrived at Port Adelaide on the Catharina on 22nd January 1839, from the province of Posen in Prussia. Krummnow's followers had to give him all their belongings to finance the commune. At its peak it had about 15 buildings, including living quarters, church, hospital and school. However, Krummnow's followers weren't impressed when they discovered that the whole property was registered in his name, and skilled workers gradually started wanting to earn wages outside the commune with their skills. The numbers declined and the commune was finished when Krummnow died in 1880.
More about Krummnow and Herrnhut...
1854

In November the brilliant concert violinist Miska (Michael) Hauser arrived in Sydney. He had been born in 1822 in Pressburg, a city on the border of Slovakia and Austria. At that time the city had a large German-speaking population - today it is called Bratislava and is the capital city of Slovakia. Hauser's brother Sigmund worked in Vienna for the newspaper "Ost-Deutsche Post" and published in that newspaper Miska's entertaining letters written in German from Australia. Miska sent his letters from the colonial capital cities and regional centres of NSW, Victoria, Tasmania, Queensland and South Australia. He left Australia in June 1858.

Germans were among the rebel miners who took part in the Eureka Stockade rebellion on the Ballarat goldfields on 3rd December, the closest Australia has come to a civil revolution. Three Germans died there.
More on Germans at the Eureka rebellion...
The Victorian government mistakenly believed that Friedrich Wern (Vern) was the leader of the uprising and offered £500 reward for his capture.
More about Vern... (including the Wanted poster).
1855

The first Swiss consulate was opened in Sydney. Then in 1856 Achille Bischoff was appointed the first Swiss vice-consul in Melbourne. This official representation was made necessary by the large increase in Victoria's Swiss community caused by the arrival of many gold-diggers. Bischoff was one of the few Swiss businessmen living in Melbourne and was from an influential banking family in the city of Basel.

A large influx of German settlers arrived in Tasmania this year aboard immigrant ships from Hamburg (Lewe Van Nysenstein - 24th May; America - 23rd June [ex Liverpool]; Wilhelmsburg - 26th August; San Francisco - 2nd November). 134 Germans also arrived on the Montmorency on 28th May, who had travelled first to Liverpool in order to sail for Launceston on that ship. Gottfried Wilhelm Beutenmüller (later Miller) and his wife Christina Catharina, from the Montmorency, bought land at Upper Piper in 1862, 26 km north-east of Launceston.
More on German-speakers in Tassie...

29 year-old Friedrich Herbig from Grünberg in the Prussian province of Silesia reached Adelaide on the Wilhelmine after an uncomfortable trip (bad food, poor conditions on board) . He soon went to the Black Springs area, where he worked on a dairy farm owned by George Angas. He lived in the hollow base of the trunk of a huge 21 metre-high gnarled river redgum tree; the base was 6 metres across at the widest point! It was near a stream and near the road to his workplace. Herbig married Anna Caroline Rattey in 1858, who had arrived from the Prussian province of Posen in November 1856, and two of their sixteen children were born in the tree-home, which they lived in until 1860. The tree is Australia's most photographed tree, and is estimated to be 300-500 years old.
More on the Herbig Tree, and the nearby Friedensberg school...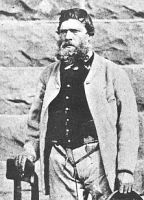 In March the bushranging (outlaw) life of Victoria's Harry Power began, as a result of an encounter with two German police troopers, who were drunk, according to Power. He was riding his own horse in the Maryborough (central Victoria) area when the German troopers stopped him and told him they didn't believe the horse belonged to him, and asked for evidence that it was his. An argument developed, during which Power thought he had to protect himself with his revolver. He injured the troopers and rode off. He was soon captured and was sent to Pentridge Prison for 14 years. A few months before the end of his prison term he escaped from Pentridge. He then committed many robberies and hold-ups across many parts of Victoria, before he was captured in 1870 through betrayal by Jack Lloyd. He later said that his life would have been different if the incident with the German police troopers had not happened. Photo: Power in prison.

The Marbs and the Aurora, the first two immigrant ships to arrive at Moreton Bay (Brisbane) direct from Hamburg, brought almost 1000 German settlers, mainly from the Tauber River Valley in southern Germany. Arriving on 22nd March, they were more than a quarter of the year's total immigration into what is now Queensland. There had been 47 deaths on the ships due to outbreaks of typhus, cholera and measles. Some passengers went to jobs in the Ipswich area, some to the Maryborough area, and many went to work in the Toowoomba district. The arrival of these settlers was due to Edward Lord, a storekeeper from Drayton on the Darling Downs, who pioneered the idea of encouraging German migration direct to Moreton Bay, rather than through the port of Sydney. He had been at a meeting of Darling Downs squatters and businessmen held on 21st July 1851 in the Bull's Head Inn at Drayton. This meeting decided to bring German workers direct to the Moreton Bay (Brisbane), rather than through Sydney. From October 1851 to July 1852 Lord, who had been educated in Germany, advertised in the Moreton Bay Courier, offering to landowners his services as an unofficial immigration agent. Wilhelm Kirchner, the Consul for Hamburg and for Prussia in Sydney, was not happy about Lord's actions, as he was already the official German immigration agent for NSW (which still included Moreton Bay). Edward Lord's 1854 trip to Germany promoting Queensland was a major factor in the emigration of the passengers of the Marbs and the Aurora.
1856
The Langmeil-Light's Pass Synod of the Lutheran Church in Australia, meeting at Langmeil (part of today's Tanunda), passed a resolution that strictly forbad going to dances, balls and theatres.
1858

In January the South Australian parliament passed into law the "Real Property Act". The Hamburg-born lawyer Dr Ulrich Hübbe had a key role in the development of this legislation, commonly known as the Torrens Title System, a system for the registration and transfer of land titles when property is bought and sold. It replaced the cumbersome and complicated English Deeds System. The Torrens System was adopted by the other Australian colonies, New Zealand, some US states and other countries.
More...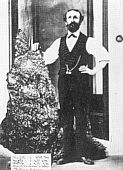 Bernhardt Holtermann (>>), politician, businessman and goldminer, arrived in Melbourne on 7th August on the Salem and travelled straight to Sydney. He was born in Hamburg and had emigrated at the age of 20 to avoid military service in the Prussian army. At first he had trouble finding work because of his lack of English. In 1861 he and Ludwig Hugo Louis Beyers went to the Hill End area to look for gold. During the next 10 years at Hill End, as well as digging for gold Holtermann ran a hotel. In 1872 he found the world's largest specimen of reef gold, making him wealthy. He had a huge collection of photographic plates which he'd commissioned, depicting Sydney and Australian mining towns. He used these photos on his travels around the world to promote migration to Australia. The photos won several awards at exhibitions in the USA and in Paris.

The Adelaide Liedertafel, Australia's oldest male voice choir, was established (still in action today).

The frigate S.M. Novara of the Imperial and Royal Austro-Hungarian Navy arrived in Sydney Harbour on November 5th, as part of its two-year voyage around the world. At that time it was considered to be the largest warship to have sailed in the southern hemisphere. The voyage was partly a public relations exercise for the Austro-Hungarian Empire, promoting diplomatic and trade relations, but the Novara also carried a large number of Austrian scientists, who investigated various aspects of the area around Sydney before the ship left on December 18th. The Novara's visit was a big social event for Sydney too, and dances and balls were organised by Sydney's German-speaking and non-German speaking population, and on the ship itself. The Novara's scientists met government ministers and academics from Sydney University. During the short visit Georg Ritter von Frauenfeld, a zoologist, did and saw a lot. He thought it a pity that many museums in New South Wales did not give a high profile to native Australian flora and fauna. Dr Karl Scherzer described many aspects of life and culture in Sydney, including the high level of alcoholism in the colony (he was not the only German/Austrian to be shocked at this: Ludwig Becker, Count Reinhold of Anrep-Elmpt and others were also surprised). After the Novara's return home, books, lectures and exhibitions increased Austro-Hungarian citizens' knowledge about Australia. The Novara was the most famous of many Austro-Hungarian naval ships that visited Australian ports in the second half of the 19th century.
1859
The Ebenezer mission station (Ebenezer meaning "stones of peace") was established on the Wimmera River 4 km west of Antwerp, Victoria (1859-1904). German missionary activities elsewhere included: German Station at Moreton Bay, Queensland (from 1838); Ramahyuck at Lake Wellington in Gippsland, Victoria (from 1862); Encounter Bay and Port Lincoln, South Australia (from 1840); Bloomfield and Mari Yamba, Queensland; Koonibba, west of Ceduna in South Australia (from 1901); Lake Boga, Victoria; Beagle Bay, in the north of Western Australia (begun in 1890 by French Trappist monks, handed over to German Pallotine Brothers in 1901; around 1980 the Aboriginal community there became self-governing, though the Pallotine priests still serve as chaplains to the community).
More on Ebenezer...
---
| Top | Back | Chronology | Issues | Students | Site Map | auf Deutsch |
| Primary Sources (in German) | Bibliography | Search |
German Australia © D. Nutting 2001