German-speaking Immigration in Tasmania in the 19th Century - Overview
In September 1791 the Austrian convict Barnard Walford (176?-1828) arrived in Australia on the Active. He was an engraver originally from Vienna, who had been convicted of stealing a basket of washing in Pettycoat Lane after moving to London. Several convicts in NSW were German-speakers who had migrated to Britain looking for work, and who were sent to Australia after committing crimes in England. Walford was sent to the penal settlement on Norfolk Island. When he had completed his sentence he married an Irish woman on the island, Jane Malloy (1773–1823). They went to Hobart in 1807 where they became respected citizens. There Walford was first a landowner, then a baker, and later ran the King George Hotel. He died in 1828.
A large influx of German settlers arrived in Tasmania in 1855 aboard immigrant ships from Hamburg (Lewe Van Nysenstein - 24th May; America - 23rd June [ex Liverpool]; Wilhelmsburg - 26th August; San Francisco - 2nd November). 134 Germans also arrived on the Montmorency on 28th May, who had travelled first to Liverpool in order to sail for Launceston on that ship. Gottfried Wilhelm Beutenmüller (later Miller) and his wife Christina Catharina, from the Montmorency, bought land at Upper Piper in 1862, 26 km north-east of Launceston.
Most of the first settlers at Upper Piper were Germans who had met each other on the Montmorency. For many years the place was known as German Town, before it acquired its current name of Lilydale. At German Town they ran small farms and sold their produce at Launceston, or took it to sell to the gold miners at Lisle, near Mt Arthur, 9km north-east of German Town. At the alluvial goldfield of Lisle some 2,500 miners were working by the end of 1879.
In the early 1850s the colonies of Victoria and NSW were attracting large numbers of German immigrants due to the gold rushes, and in 1853 the abolition of convict transportation to Van Diemen's Land (Tasmania) ended that colony's cheap supply of labour (it was abolished because the colonial authorities in London realised that the gold rushes across the water in Victoria would make criminals in Britain keen to get a free trip to Australia!). To attract immigrants, the Tasmanian Government, like other colonies, set up a bounty system of immigration, where all but £5 of the fare money was paid for them, and the immigrants were committed to work for a set length of time for the landowner who had sponsored them. During 1855, out of 5,000 assisted immigrants arriving in Tasmania, 858 were Germans.
In the 1870s the Tasmanian government wanted to attract German settlers by offering free land. Frederick Buck, the Tasmanian Government's agent for German immigration, published a handbook in Hamburg in 1870 entitled: "Die britisch-australische Colonie Tasmanien. Ein Handbuch für Auswanderer, nach statistischen und anderen amtlichen Nachrichten der königlich-großbritannischen Colonial-Regierung." ["The British-Australian colony of Tasmania. A Handbook for Emigrants, based on statistical and other official data of the Royal British Colonial Government"] (Boyes & Geissler, Hamburg 1870).

In August 1870 the Victoria arrived in Hobart with German immigrants who soon moved up to Sorell Creek. Sorell Creek is in the mountains 18 kilometres north-west of Hobart. The first settler up there was English, but many Germans soon followed, and Danes also. Sorell Creek was proclaimed a town in 1881 and renamed Bismarck, in recognition of the many German settlers there (Otto von Bismarck was Chancellor of Germany at the time). Small-fruits (e.g. strawberries, blackcurrants, raspberries, plums and gooseberries), sent to Hobart and Melbourne, were an important part of Bismarck's economy, as was logging and saw milling. Bismarck was known for its axemen. In November 1914, shortly after the start of World War One, petitions were submitted to the Tasmanian government by Bismarck's English faction and by its German faction (about half the town's population was of German origin), the first petition requesting a name change and the second one opposing it. The name Bismarck was changed to Collinsvale, which matched nearby locality names of Collins Cap and Collins Bonnet. Collinsvale remained quite self-sufficient and isolated from the outside world for many years. Photo above: Fehlbergs Road near Collinsvale, named after Carl and Wilhelmina Fehlberg, who arrived with their five children on the Victoria in 1870. They grew apples, plums, berries and vegetables on the steep hillsides. As in many German communities in Australia, many of the Fehlberg men played in the local brass band.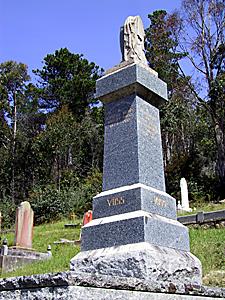 Photo: gravestone of Gustav Voss (1874-1952) in the Collinsvale cemetery. Voss was the most prominent farmer in the area. He owned the largest farm and worked seven days a week. Voss was also elected as Bismarck's first representative on the Glenorchy Council. It was an unpaid position, and apparently Voss walked from Bismarck to the council meetings in Glenorchy and back in order that his horses could rest from the day's work. He was a councillor from 1908 to 1919.
See also:
Bardenhagen, Marita. 1986. Lilydale - A German Legacy. An Examination of Nineteenth Century German Immigration to Northern Tasmania. Self-published B.A. thesis, Tasmanian Institute of Technology.
Appeldorff, Gwendolyne. 1986. Memories of Collinsvale. Self-published, Collinsvale (Tasmania).
---
| Top | Back | Chronology | Issues | Students | Site Map | auf Deutsch |
| Primary Sources (in German) | Bibliography | Search |
German Australia © D. Nutting 2001