German Settlement in South Australia in the 19th Century - Overview
[Description of the first Lutheran emigration by Pastor Kavel's people]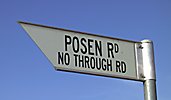 When Pastor Kavel's group arrived, Adelaide was only four years old and a rough and basic settlement. Kavel's group rented 150 acres (61 hectares) from George Angas about 10 km from Adelaide on the River Torrens and named the settlement Klemzig, after one of the villages in their home area of Prussia. (Photo: road sign in the Eden Valley area - Posen was a Prussian province from which many early immigrants came.)
In 1839 immigrants from Kay in the Prussian province of Brandenburg arrived on the Danish ship Zebra (the first foreign ship to arrive at Adelaide). They founded a settlement at Mount Barker in the Adelaide Hills and named it after the ship's Captain Hahn, who had helped them acquire the land. It wasn't long before they were successfully growing a variety of agricultural produce, and a common sight was a line of Hahndorf women walking through the night down to Adelaide's market, carrying their products on their backs (eg fruit, vegetables, butter, eggs and cheese). They would return to Hahndorf with other things that they had been able to buy in the town. It was quite easy for the Hahndorf people to sell their products, as up until then the people of Adelaide had not developed much agriculture. Adelaide had concentrated on cattle raising, and imported many agricultural products from Tasmania and New South Wales.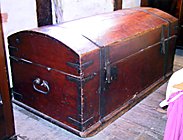 (At left) This sea chest (now in a private home in Hahndorf) was brought to Australia on the Zebra by its owner Dorothea Elisabeth Schulz, nee Paech, who was born in 1796. She was a 42-year-old widow from Rentschen in the Prussian province of Brandenburg, and with her came her 12-year-old daughter Johanne Eleonore and 8-year-old son Johann Gotthilf. She settled at Hahndorf. Her brother emigrated on the Zebra also - he was Johann Friedrich Wilhelm Paech, who bought the land where the Paechtown settlement arose.
Pastor Fritzsche brought more Lutheran settlers in 1841, who settled in Hahndorf and founded the village of Lobethal ("Valley of Praise"). Bethany was settled in 1842 by 26 farmers from Lobethal, Hahndorf and Klemzig, who leased nine sections of land and named the new settlement Bethanien. A serious disagreement between Pastors Kavel and Fritzsche about religious doctrine created a split in the congregations. Kavel's group moved away, establishing Langmeil on the Gawler River. Langmeil is today part of Tanunda.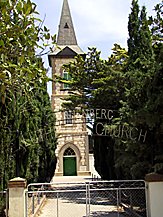 (Photo at left: Gruenberg Lutheran Church) Between 1839 and 1845 most of the immigrants coming to SA were labourers and farmers from eastern and central Germany, and usually came in family groups. A significant number of Wends (also known as Sorbs) came to South Australia in the early 1850s (large numbers went to Texas). Some of them moved on from SA to Victoria's Western District in 1852 (Hochkirch/Tarrington, Gnadenthal), and some to NSW (Walla Walla, 1868).
You can read here Theodor Müller's description of the type of German immigrants who lived in Adelaide after 1848.
By the 1850s there were two areas of German settlement in SA: the area around Hahndorf, and the Barossa Valley to the north. In the close-knit German settlements of the early years, the Germans maintained cultural customs from their homeland. In fact, most Germans settled in country areas rather than in Adelaide. As they were colonial pioneers in these areas, they did not have to adapt to colonial British culture, allowing them to maintain their traditional customs and leisure activities. Friedrich Gerstäcker, a globetrotting writer, visited the German settlements in S.A. in the 1850s and was amazed at how well the old customs were maintained, e.g. the style of the farmhouses, the pictures and proverbs on the walls etc.
Read Gerstäcker's description of an S.A. German farmhouse.
The Germans also maintained building styles from the areas they had left, and in places like Hahndorf there are still some old examples of the Fachwerk house (half-timbered construction) to be seen today. The frame of the house was built on a stone foundation, and consisted of horizontal, vertical and diagonal timbers, held together with wooden dowels. The sections between the frame's timbers were filled with mud and straw packed around twigs and sticks, then plastered over.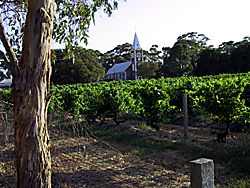 The first to grow grapes in the Barossa Valley was Johann Gramp, who planted vines at Rowland Flat in 1847. Although the Valley is well-known today for its wine production, in the beginning the people of the Barossa only produced as much wine as they needed for their own family. Wine production increased quickly in the Valley in the 1880s and 1890s when a vine disease caused havoc in the vines of the eastern Australian colonies.
By the mid-1860s the Barossa Valley had become quite closely settled, and in some areas the quality of the soil was deteriorating, as the people did not know the advantages of rotating their crops. In 1869 the Strangways Land Act allowed larger areas of land to be selected for settlement, and some German settlers and immigrants went elsewhere in the colony, looking for larger and better areas of land for farming. Some started farming on the Yorke Peninsula (1870s); others went to Victoria and the Riverina of NSW. The Murray Flats area attracted Germans from the Barossa also (eg the settlements of Sedan and Steinfeld). Some went to the Mid-North and Upper North of SA and tried out wheat-farming (eg the areas of Condowie, Laura, Jamestown, Appila, Caltowie, Quorn). The larger land selections of these years separated Germans from the close-knit communal life that had been possible in areas like Hahndorf and the Barossa Valley in earlier years.
South Australian newspaper ad
Australische Deutsche Zeitung, 4/11/1870
Education was not compulsory in SA until 1875, and before that year schools were operated by churches or private individuals. A school was opened in Tanunda in 1850 by Martin Basedow, who had been a school teacher in Germany, and it soon had 100 students. In each German settlement where numbers were high enough there was a German school, most of them connected with or owned by the Lutheran Church. By 1900 SA had 46 German schools (where by 1890 instruction was carried out in both German and English, rather than just German, as was the case earlier), with 1,600 students. As free state schools became more widespread, more German families began sending their children to those schools. In 1917 during World War I a harsh Government law closed down all the German schools (in Victoria no Lutheran school was shut during the war, though no teaching in German was allowed, and only textbooks from the British Commonwealth were permitted).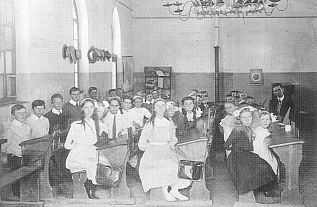 Nain Lutheran School, c. 1913
(Photo: Pastor J Materne)
During World War One anti-German hysteria was perhaps strongest in SA of all the states - in SA the German contribution was perhaps most obvious. 69 German placenames were changed by the State Government in 1917 (see the List of placename changes).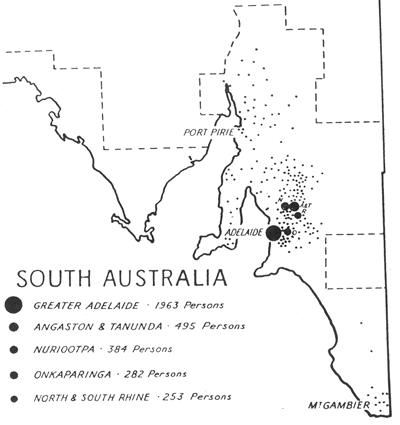 Map: Distribution of the Germans in South Australia around 1900 (from: Borrie, Wilfried. 1954. Italians and Germans in Australia / A Study of Assimiliation. F.W. Cheshire, Melbourne).
References:
Lodewyckx, Prof. Dr. A. 1932. Die Deutschen in Australien. Ausland und Heimat Verlagsaktiengesellschaft, Stuttgart.
Meyer, Charles. 1990. A History of Germans in Australia 1839-1945. Monash University, Clayton (Victoria).
---
| Top | Back | Chronology | Issues | Students | Site Map | auf Deutsch |
| Primary Sources (in German) | Bibliography | Search |
German Australia © D. Nutting 2001