Lake Killalpaninna Mission
On 9th October 1866 a small party set out from Tanunda (South Australia) to establish a Lutheran mission station in the salt-lake areas of the north-east of South Australia. It consisted of two missionaries Johann Friedrich G÷▀ling and Ernst Homann, and two lay brethren, Hermann Vogelsang and Ernst Jakob.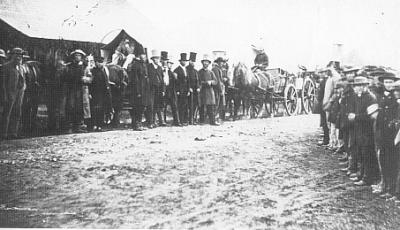 Departure of the missionaries from Tanunda
After a difficult three-month journey they established their mission station at Lake Killalpaninna (about 40 km south of Coopers Creek) and tried to convert the Dieri Aboriginal tribe to Christianity. Progress, baptisms and conversions were slow in coming, but the missionaries were determined and patient. They had little success in christianising the native Australians and came to the conclusion that it was just as important to protect them from the white settlers. Some settlers, irritated by disturbances from the locals, had started killing them, and white shearers and station hands lusted after the local women. The mission station was in decline by the start of World War One and was closed by the government in 1915.
Ernst Jakob

and Aboriginal friends

Gravestone of Ernst Jakob ("Missionskolonist")

and his wife Marie Elisabeth

in the Langmeil cemetery, Tanunda
The Killalpaninna Mission (also known as Bethesda) and the one at Hermannsburg (1877, still operating) were perhaps the largest-scale German missions in Australia, but smaller missionary activities happened elsewhere, including: German Station at Moreton Bay, Queensland (from 1838); Ebenezer (meaning "stones of peace") on the Wimmera River 4 km west of Antwerp, Victoria (1859-1904); Ramahyuck at Lake Wellington in Gippsland, Victoria (from 1862); Encounter Bay and Port Lincoln, South Australia (from 1840); Bloomfield and Mari Yamba, Queensland; Koonibba, west of Ceduna in South Australia (from 1901); Lake Boga, Victoria; Beagle Bay, in the north of Western Australia (begun in 1890 by French Trappist monks, handed over to German Pallotine Brothers in 1901; around 1980 the Aboriginal community there became self-governing, though the Pallotine priests still serve as chaplains to the community). Some factors which made the missionaries' work difficult were: (a) the arid country in which many of the mission stations were located, (b) the nomadic life of the Aborigines, (c) the need to give them work and food once they were settled on a mission station.

Hermannsburg Mission
---
| Top | Back | Chronology | Issues | Students | Site Map | auf Deutsch |
| Primary Sources (in German) | Bibliography | Search |
German Australia © D. Nutting 2001