Introduction
There have been five main phases of German-speaking immigration in Australia:
Settlement by groups (especially in the colony of South Australia) in the early-mid 19th century
(See a photo of a passenger ticket for a passage to Port Adelaide from 1846.)
The Gold Rush era in the mid-19th century
The arrival of large numbers of settlers in the colony of Queensland from the 1860s up to 1914
The arrival of refugees (including German and Austrian Jews fleeing Nazi persecution) in the late 1930s and the 1940s
The planned migration (promoted by the Australian government) of the 1950s and 1960s
(Based on: Germans in South Australia. A Migration Museum Education Program for Students in Years 8-12. Migration Museum Adelaide 1994)
Emigrants embarking in Hamburg, circa 1850. (Museum für Hamburgische Geschichte)

Population:

In 1861 (the first year in which the census recorded nationality) the colonies NSW, Victoria, Queensland and S.A. had 26,872 people who were born in Germany.
In 1891 there were 45,000 German-born people in Australia. The two World Wars had a big effect on German immigration.
In 1947 there were 14,567 German-born people in Australia. Then masses of Germans were part of the Australian Government's big immigration program in the 1950s and 1960s.
In 1961 Australia had 109,315 German-born people.
In 1981 there were 110,758 people in Australia born in Germany.
According to some estimates, more than 10% of Australia's population is of German descent.


Young German emigrant Leon on the Castel Felice in 1956 with Mrs Margaret Dietiker, an escort officer for the Intergovernmental Committee for European Migration.
(Department of Immigration and Multicultural Affairs photograph, Cat. # 56/4/82)
Distribution:
In the 19th century 80% of Germans in Australia lived in rural areas. Now more than two-thirds of Australia's German-born people live in the large cities.
Although the early German settlers were found in all parts of Australian society, some settlements (especially in S.A. and Queensland) developed in which German customs and traditions were very strong in the community. In these settlements the Germans' membership of the Lutheran Church strengthened their community spirit.
German immigrants have made a large contribution to Australia's economic and cultural life.
Australians of German descent: sport
In all walks of life you can find high-profile Australians with German surnames. Aussies love sport, and German surnames are there too, e.g.:
Basketball:
Rachel Sporn
Cricket:
Jason Arnberger, Michael Klinger (Victoria), Andy Bichel, Carl Rackemann, Scott Muller, Ashley Noffke (Queensland), Darren Lehmann (South Australia), Ben Hilfenhaus ["Bradman Young Cricketer of the Year" Award, 2007] (Tasmania)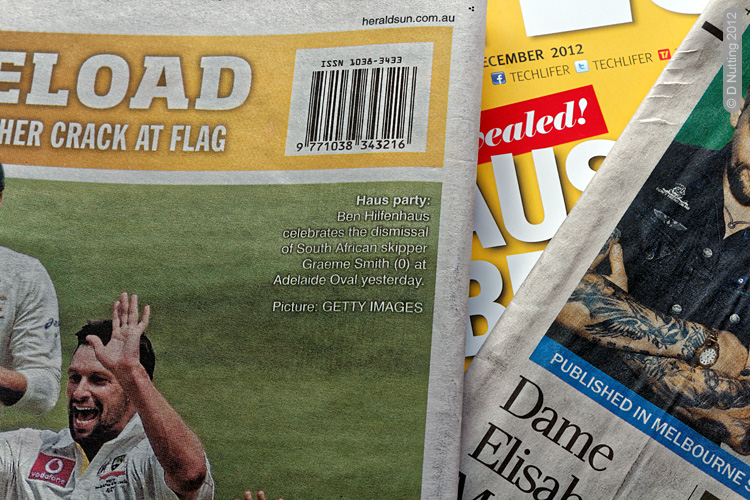 Australia's national cricket team celebrates a great achievement by the Tasmanian Ben Hilfenhaus in a Test match against South Africa, and a newspaper makes a word pun with his German name in the caption.
AFL football:
• from the club St Kilda - Stewart Loewe, Fraser Gehrig [Gehrigs were among the many German arrivals in the area around Albury, New South Wales, in the middle of the 19th century], Nick Riewoldt, Troy Schwarze, Adam Schneider, Carl Ditterich;
• Richmond - Jack Riewoldt, Trent Knobel, Danny Meyer;
• Brisbane Lions - Michael Voss [Brownlow Medal 1996], Matthew Leuenberger;
• Adelaide Crows - Simon Goodwin [Simon is a descendant of the Herbig family, the family with the famous tree in the Eden Valley, South Australia], Brian Beinke, Martin Mattner, Trent Hentschel, Nathan Bock, Matthew Bode, Darren Pfeiffer, Daniel Schell, Jacob Schuback;
• Melbourne - David Schwarz, Ross Funcke, David Neitz, Jace Bode;
• Sydney Swans - Andrew Schauble, Tim Schmidt;
• North Melbourne - Wayne Schimmelbusch, Jack Ziebell [Jack is a descendant of the German settlers of Westgarthtown (1850) in the north of Melbourne];
• West Coast Eagles - Tyson Stenglein, Michael Braun;
• Fremantle - Byron Schammer, Andrew Siegert;
• Geelong - David Mensch, Daniel Menzel;
• Carlton - Matthew Kreuzer [#1 draft pick 2008], Trent Sporn;
• Hawthorn - Shaun Rehn, Luke Breust, Nick Ries;
• Port Adelaide - Brett Ebert, Justin Westhoff, Matthew Lobbe;
• Essendon - Kyle Reimers, Jason Winderlich;
• Footscray / Western Bulldogs - John Schultz [Brownlow Medal 1960], Luke Dahlhaus, Mitch Hahn, Josh Schache;
• Collingwood - Murray Weideman [AFL Hall of Fame, 2007 - the Weidemann family arrived in Adelaide in 1849 and changed the spelling of their family name during World War Two], Matthew Scharenberg;
• Greater Western Sydney - Harrison Himmelberg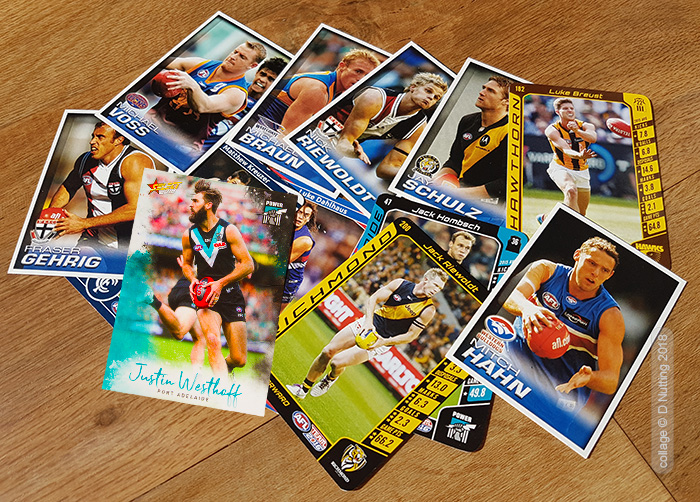 Football cards from the Australian Football League (AFL). They show some of the AFL players whose family names bear witness to their German-language family background/descent: Fraser Gehrig, Michael Voss, Michael Braun, Nick Riewoldt, Jay Schulz, Luke Breust, Mitch Hahn, Jack Riewoldt (cousin of Nick), Jack Hombsch, Justin Westhoff, Luke Dahlhaus and Matthew Kreuzer.
Soccer:
Mark Schwarzer (Socceroos)
Cycling:
• Katrin Garfoot (from Queensland, member of team Jayco/Apollo/VIS, champion for 2013 in the Subaru National Road Series);
• Peter Herzig (from New South Wales, winner of the 'Grafton to Inverell Cycling Classic' 2012);
• Heinrich Haussler (from New South Wales, individual stage winner at Tour de France 2009 - German father, Australian mother)
Motorbike racing:
Jamie Stauffer (Australian Superbike Series champion, 2006 and 2007)
Netball:
• Laura Geitz (played for the Australian Netball Diamonds [the national team] 2008-2018, including as captain) - Laura grew up on a grain and cattle farm on the Darling Downs in southern Queensland. The Darling Downs, a farming region of rolling hills, attracted many German settlers in the 19th century and in the year 1900 around 1500 German families lived there.
•Susan Fuhrmann (played for the Australian Netball Diamonds for several years, and played for the clubs West Coast Fever, Perth Orioles, AIS Canberra Darters) - nickname "the Fuhrmannator"
• Jane Altschwager (Australian Netball Diamonds 2000-2005, and played for the clubs Sydney Swifts, Hunter Jaegers, Adelaide Thunderbirds, Central Pulse)
• Kristen Heinrich (Australian Netball Diamonds 2004-2007, and played for the clubs Adelaide Thunderbirds, AIS Canberra Darters)
• Natalie von Bertouch (Australian Netball Diamonds 2004–2012, including as captain from 2010 to 2013, and played for the club Adelaide Thunderbirds)
• Laura von Bertouch (Australian Netball Diamonds 2006–2007, and played for the club Adelaide Thunderbirds). Sister of Natalie.
Yachting:
Sydney Fischer
Swimming:
• Jon Sieben - at the Olympic Games in 1984 in Los Angeles he won the gold medal with a new world record in the 200 m butterfly, and the bronze medal with the 4x100 m medley relay team. He was also a member of the swimming team at the 1988 and 1992 Olympics.
• Lauren Arndt - she won the bronze medal in the 10 km race at the Open Water Swimming World Championships in 2004 in Dubai.
• Emily Seebohm - in 2008 at age 15 she set a new world record for the 50 m backstroke at the Australian Olympic selection trials (on the next day another Australian broke Emily's record!). In the 100 m backstroke she created a new Commonwealth record (just 0.38 sec behind the world record) and was included in the team for the Beijing Olympics.
• Christian Sprenger - in February 2008 he set a new Australian record in the 100 m breaststroke and at the selection trials won a place on the swim team for the Beijing Olympics.
• Nick Sprenger - he won a silver medal with the 4x200 m freestyle relay team at the Athens Olympics in 2004.
The Australian swimming team for the 2008 Beijing Olympics included the following German (sur-)names: Emily Seebohm, Nick Sprenger, Christian Sprenger, Andrew Lauterstein, Hayden Stoeckel, Melanie Schlanger.
• Marieke Guehrer - world record holder for women's 50 m butterfly [short course / 25 m], 2008-2009; world record holder for 50 m backstroke [short course], 2009
Maybe you can think of other sportsmen and sportswomen...
---
| Top | Back | Chronology | Issues | Students | Site Map | auf Deutsch |
| Primary Sources (in German) | Bibliography | Search |
German Australia © D. Nutting 2001