Robert Prenzel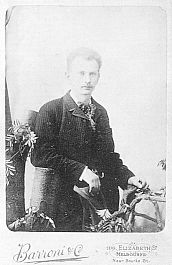 Robert Prenzel, one of Australia's greatest wood carvers, arrived at Melbourne on 24th November on the steamer Habsburg. He had completed a carver apprenticeship in his Prussian home town of Elbing (now part of Poland), and had furthered his studies at the Düsseldorf Kunstakademie and in Holland, Switzerland and Italy.
In Melbourne Prenzel first worked for the German sculptor and modeller Otto Waschatz, decorating private homes and public buildings. From 1891-1901 Prenzel worked in partnership with another German, Johann Christian Treede, after which he continued in business on his own. He also participated in the activities of Melbourne's Deutscher Turnverein.
(Photo of Prenzel at the time of his arrival in Melbourne, 1888. Photo: Barroni & Co.)
In the years after Australia's Federation (1901) Prenzel's innovative use of Australian floral and faunal motifs in his furniture pieces was very popular, and his clever harmonious blending of native flora and the international Art Nouveau style brought him many commissions, particularly from wealthy families in Melbourne and Victoria's Western District. Prenzel loved working with a wide variety of Australian timbers and promoted their use for artistic purposes. The two most common types of Australian timber in his work are mountain ash and blackwood.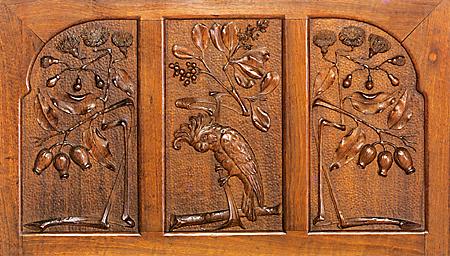 Robert Prenzel 1866-1941
The Mathias Suite 1906-7, bed (detail) c.1907
National Gallery of Victoria, Melbourne
His shields for associations and sporting clubs were also in demand, with their individual styles, Australian motifs and contrasting native timbers. During World War One he produced many Honour Boards for organisations both large and small, however, overall, the anti-German atmosphere of that time, particularly later in the War, was a blow to his career. The amount of work he received after the War declined, though this was due partly to changes in artistic taste in Australia in the post-war years.
Prenzel also produced beautiful carvings for churches – altars, lecterns and pulpits etc. Churches of different denominations commissioned work from him. Prenzel himself was Lutheran, and his work can be seen in the Lutheran churches at Tarrington, Dimboola, Murtoa and Minyip (all western Victoria).
Robert Prenzel died in 1941. A considerable number of German carvers arrived in Australia in the 19th century (some arrived much earlier than Prenzel), but Robert Prenzel is the biggest name amongst them.
(Source: Lane, Terence. 1994. Robert Prenzel 1866-1941: His Life and Work. National Gallery of Victoria, Melbourne.)

Earlier German carvers
Of the German immigrants who arrived in Hobart on the Wilhelmsburg on the 26th August 1855, three were cabinetmakers and carvers:-Ernst Jäger, Wilhelm Borbeck, and Heinrich Hunicke. There were two German carvers employed by Messrs Whitesides and Ware, Hobart and it appears that Whitesides and Son again had several German cabinetmakers working for them at a later date. There was also an Austrian overseer named Bundock at Port Arthur who did some woodcarving. (Source: Dimmack, Kay. 1988. Woodcarving in Tasmania. Queen Victoria Museum and Art Gallery, Launceston.)
---
| Top | Back | Chronology | Issues | Students | Site Map | auf Deutsch |
| Primary Sources (in German) | Bibliography | Search |
German Australia © D. Nutting 2001